Venera Bojkova- About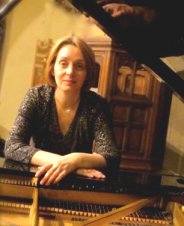 I was born in Sofia, Bulgaria and studied at the State Conservatoire of Music. My piano professors were graduates of Moscow Conservatoire, Nicolai Evrov and Lubomir Dinolov, both among Bulgaria's foremost recitalists and teachers. I have performed throughout Bulgaria as a recitalist and concerto soloist.

In 1991 I became pianist in residence in the Northern Province of South Africa, coming to the United Kingdom in 1993. As well as performing throughout the UK, I have performed in Europe, Russia, South Africa, the USA and China. In July 2014 , I gave recitals and masterclasses in Xiamen University, China, for the International Piano Festival and in 2015, 2016 and 2017 was an adjudicator for the Hong Kong Schools Music Competition.

I have adjudicated for the BBC Young Musician Of The Year, European Piano Teachers Association and am an internal examiner for the University of Newcastle -upon -Tyne. I teach at the Sage Gateshead Centre for Advanced Training and Newcastle and Durham Universities.

My recordings include CDs as a piano duo with Valentina Seferinova, most recently two of the music of Weinawski and Pachulski for the Polish record label, Acte Preable. I currently perform and record as a member of the Vladigerov piano trio with 'cellist Sacho Somov and violinist Lucy Jeal.

In addition I am conductor and Artistic Director of Bishop Auckland Choral Society.

I also play the harp as well as the piano and have appeared as a soloist and orchestral harpist in concerts.